Porcelain And Ceramic Fillings (Inlay & Onlay)
Ceramic tooth fillings are also known as 'Inlay and Onlay Fillings'. We should apply ceramic tooth fillings when the remaining tooth tissue is not sufficient for the composite.
According to the American Dental Academy, inlays and onlays  are not technically "fillings," though they can serve the same purpose.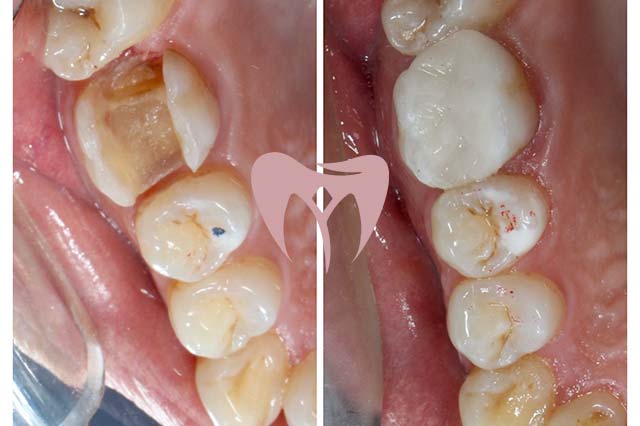 What Is Ceramic Tooth Filling? (Porcelain Filling)
Ceramic tooth fillings are a type of filling made of dental porcelain, and applying in cases such as;
The main purpose is to protect the weakened and thinned tooth and make it resistant to fracture.
What Are The Differences Between Composite vs Ceramic Tooth Fillings?
Composite material is not as durable as porcelain. In other words, the tooth with composite filling will be more susceptible to fracture in the long run than the tooth with ceramic filling. In some cases, it may even be necessary to extract the tooth after the tooth is broken.
After filling with composite material, there is usually sensitivity in the tooth. This situation is not observed after ceramic fillings.
On the other hand, we should replace composite fillings every 2 years. This need for renewal in composite fillings causes material loss from the tooth each time. You can use ceramic fillings for an average of 10-15 years. 
How Long Do Ceramic Tooth Fillings Last?
Ceramic tooth fillings stay in the mouth for an average of 10-15 years. The extension of this period is in your hands. Your oral care, eating habits and teeth grinding habits are important. In Snowdrop Premium Dental Turkey, ceramic tooth fillings come with 5 years guarantee. 
Advantages Of Ceramic Tooth Filling (Do They Worth It?)
Ceramic tooth fillings look much more natural. They are in perfect harmony with your teeth.
Ceramic fillings are very durable and resistant to breakage.
You can use ceramic tooth fillings for an average of 10-15 years. This also reduces the cost you spend on the dentist in the long run. Because, we should renew our composite fillings every 2-3 years.
Ceramic tooth fillings are resistant to staining.
Ceramic tooth fillings do not wear out over time. They are resistant to abrasion.

How Long Do Ceramic Fillings Take From Start To Finish?
In Snowdrop Premium Dental Turkey, Ceramic tooth fillings require 2 sessions.
In the first session, the decayed, broken or old filling on your tooth is cleaned and an impression is taken. And a temporary filling is placed on your tooth. Then, we send this impression is then sent to the laboratory and our skilled technicians complete the inlay with porcelain. 
When you come for the second session after 3 days, the temporary filling placed on your tooth is removed and your new porcelain tooth filling is glued with special adhesives.
How Much Does Ceramic Fillings Cost?
The cost you will pay for the ceramic fillings varies according to the experience of the dentist, the conditions of the clinic (quality of materials, technology used and the quality of laboratory) and of course the country you are in. Snowdrop Premium Dental Turkey offers you very reasonable prices. Composite bonding price is 185£ in our clinic.
America is probably the most expensive country for dental treatments. In the US, having a ceramic filling can cost an average of $2000.
While this figure is 1400 € in European countries, it is 1200 £ in the UK.
For composite bonding and other dental treatment prices, please visit our prices page.
Most Common Dental Treatments
Modern Dentistry At Affordable Prices… All dental treatments are available in our clinic. The most popular of these treatments are listed below;
Your smile is the first thing people notice when they meet you. The smile makeover is unique to the person.
Teeth bonding is one of the most popular cosmetic dentistry treatments. Dental composite materials are used teeth bonding. 
For treating missing teeth in the mouth we can use dental implants. The best way of implants; restore your lost aesthetics and function.
Porcelain Veneers and Lumineers are the first set of choices available when it comes to cosmetic dentistry today.